You are here
Conference report: Cutting Edge Laryngology 2022
Cutting Edge Laryngology 2022 - by Tiffany Munroe-Gray, BLA Trainee Representative and Council Member
The British Laryngological Association (BLA) smoothly hosted its biennial two-day event online. Individual presentations were pre-recorded, avoiding the inevitable technical difficulties, but presenters gathered with the chair of each section, facilitating insightful live Q&A sessions. This excellent balance meant presenters joined over 220 attendees from all over the globe with 54 posters presented from 10 countries.
The 11 sessions encompassed the whole gambit of laryngology for both ENT surgeons and allied professionals with a fantastic range of presenters sharing their expertise. Highlights were many and included scientific presentations on soft robotics from Professor Rossiter at SoftLabs Bristol, demonstrating implantable and wearable technology. Neurogastroenterologist Professor Hamdy summarised the emerging role of neurostimulation devices in neurogenic dysphagias, and Dr Hull, Respiratory Consultant, who works closely with ENT colleagues at the Royal Brompton Hospital, discussed his excellent applied approach to evaluating upper and lower respiratory causes for shortness of breath.
Several speakers shared their personal perspective from the point of view of their professional lives. Ian Lilly of the Evelina Hospital London mentioned how his own life experiences had impacted his interactions with the parents of his paediatric patients and Professor Zur, Divisional Chief at the Children's Hospital of Philadelphia, gave her charming and fascinating insights into being a laryngologist and 'theatre mom'.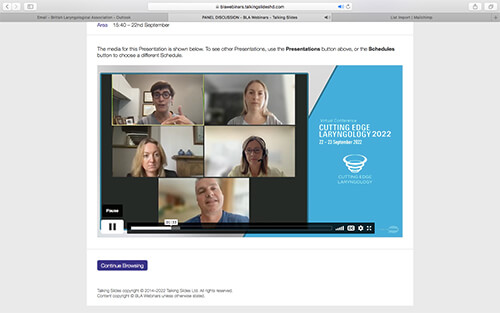 There was understandably a focus on laryngology in the post-pandemic era with COVID-19, which Session Chair Mark Rafferty described as, "the eye of the storm for SLT and laryngologists around the world". Dr Kupfer of the University of Michigan outlined their management of post-intubation glottic stenosis. Sarah Wallace, who was last year awarded an OBE for her work as a speech and language therapist, considered how a patient's pre-morbid comorbidities interplay with the specific features of COVID infection.
Professor Geneid from Helsinki University Hospital summarised their own immensely practical experience on how the day-to-day practice of laryngology can be more office based, a perspective that no doubt appeals to clinicians in a post-COVID era where waiting lists are long and clinical demand is high. Dr Jacqui Allen, who founded the Auckland Voice and Swallow Centre, delved into the cost of dysphagia and how diagnostic screening tools can ensure prompt and appropriate referral to mitigate these costs.
The final afternoon covered the latest developments of cancer diagnostics, the laryngological management for head and neck patients and was followed by the rapidly evolving therapeutic options for recurrent respiratory papillomatosis management.
This fantastic and slick conference covered such a breadth of topics with truly fantastic speakers. Congratulations to the organisers and sincerest thanks to the events sponsors who included BIOHIT HealthCare, DP Medical Systems, Neomed UK, Pentax Medical and KARL STORZ Endoscopy (UK) Ltd. The bar has been set very high for 2024's event.
BLA Cutting Edge Laryngology prize winners 2022
David Howard Prize - Best oral presentation
'Machine Learning-based Voice Analysis for the Screening of Obstructive Sleep Apnoea.'
Carlo Robotti, Department of Clinical-Surgical, Diagnostic and Paediatric Sciences, University of Pavia, Pavia, Italy.
David Howard Prize - Best poster presentation
'The Phonetically Specific Oral Cavity Detection by Applying Nasal Electrolarynx-Programmed High Frequency Signal.'
Shu Wei Tsai, MD, Otolaryngology, National Cheng Kung University, Taiwan.
 Conference sessions have been recorded and are available online as Talking slides > 
Tiffany Munroe-Gray, ENT Registrar, Great Ormond Street Hospital, MBBS BSc (Hons) MRCS-ENT AFHEA MSc DIC. 
Cutting Edge Laryngology 2019 - by Natalie Watson, BLA Council Member
Cutting Edge Laryngology was a three-day conference organised by the British Laryngological Association (BLA) in the splendid surroundings of the Royal College of Surgeons of Edinburgh. It was a truly international affair with experts speaking on hot topics, new and developing skills and technologies. Keynote lectures were delivered from Lucian Sulica, New York, on vocal cord palsy, Mark Watson, the BLA President on laryngopharyngeal reflux, Christian Sittel, the current European Laryngological Society President and host of the 2020 ELS Conference in Stuttgart, on cricotracheal resection for subglottic stenosis, and Kishore Sandhu from Lausanne, Switzerland on laryngeal trauma.
A host of additional invited speakers imparted knowledge with updates and expert opinion on idiopathic subglottic stenosis (Alex Gelbard, Nashville, USA, Marshall Smith, Salt Lake City, USA). Office-based procedures were explored by Yakubu Karagama, London, Reza Nouraei, Poole, and Lucian Sulica. Taran Tatla, London, highlighted endoscopy advances in technology and Cian Hughes from Google explored the use of Artificial Intelligence in medicine. A section on the treatment of spasmodic dysphonia discussed the use of Botulinum toxin (Declan Costello, Wexham Park), Type 2 thyroplasty (Tetsuji Sanuki, Japan), and endoscopic thyroarytenoid neuromyectomy (Domingos Tsuji, Brazil). The Reverend Peter Meager led us through his patient journey with adductor spasmodic dysphonia for the past 40 years.
The dysphagia section included presentations on the MDT approach by Justin Roe, London, office balloon dilation by Kate Heathcote, Poole and pharyngeal pouches by Sam Majumdar, Dundee. Scharukh Jalisi, Boston, spoke on laryngeal rehabilitation after head and neck cancer treatment and Chadwan Al Yaghchi, London, on surgical voice rehabilitation after laser cordotomy. We were also updated by the lastest RRP evidence in adults and children by Sam Majumdar and Michelle Wyatt, London and Margaret Stanley, Cambridge, who explained the immunology. This was timely given the BLA's position paper on Gardasil for patients with RRP (http://www.britishlaryngological.org/news/position-statement-gardasil).
There was a dedicated speech and language therapy session on the final day which enthralled the audience with the latest in the MDT approach to head and neck cancer, benign airway disorders and voice therapy. Free papers were also presented from a number of UK and international speakers. In addition, on each of the three days, discussion of difficult cases closed the sessions, with the debates continuing into the evening.
Finally, the BLA decided to go paperless for this year's conference producing the "BLA Connect" app. This was no ordinary conference app and remains live to function as an interactive educational resource. This open-access app will help us to stay connected, share information and hopes to encourage debate and discussion. Please do download "BLA Connect" from your app store to your device and the BLA can keep you updated on the new resources coming soon.
Conference sessions have been recorded and are available online as Talking slides > 
Cutting Edge Laryngology 2016:
Pushing the boundaries in research, education and collaboration
This landmark event - the BLA's most successful conference to date - offered an inspirational, world-class platform for leaders in the field to learn and debate over three information-packed days at the Royal College of Surgeons in London.   
The meeting featured separate laryngology and speech and language therapy talks as well as panel discussions, interactive poster sessions and rich opportunities for conversation, education and hands-on practice. 
Professor Sophie Scott's opening message Voices on the Brain was a tremendously well-received starting point for the meeting.  Other highlights included Paul Carding's live address from Australia and a lively and thought-provoking keynote message from Nathan Welham on the aerodynamics of the larynx.  Sessions covered a wide range of subjects including vocal cord paralysis, laryngeal dysfunction, neurolaryngology and regenerative approaches to the airway and also featured interactive panel discussions on difficult cases. Parallel SLT-focussed sessions covered evidence-based practice in voice therapy and invited active contributions.
A moving performance from laryngectomy patient choir Shout at Cancer offered a standout moment for delegates on the first evening of the conference, receiving rave reviews from conference visitors and a supportive online audience. The BLA also wishes to congratulate Guri Sandhu, winner of the prestigious Isshiki Award, as well as David Howard Award winners Markus Gugatschka and Kenji Mizoguchi and Laryngograph Trust Prize winner William Gao.
The conference was only the fifth in a series of increasingly popular annual BLA meetings and attracted 215 delegates from over 30 counties. Following on from this successful event, the BLA has been delighted to welcome an impressive group of new members to its growing and active community.   
BLA President Martin Birchall comments: "This year's conference has surpassed our expectations, pushing the boundaries and encouraging the highest levels of education and collaboration.  We were thrilled to have contributions from such notables as Clark Rosen, Nathan Welham, Jean Abitbol, Stellan Hertegård, Sue Jones, Fiona Robinson and a host of other luminaries in our exciting field. I encourage everyone - surgeons, speech pathologists, physicians, scientists and students - to join us as a delegate at one of our growing number of educational meetings, and as a member of our vibrant association."
The BLA would like to thank sponsors Aquilant Edoscopy, DP Medical, Karl Storz Endoskope, Laryngotech, Merz, Neurosign, the National Association Of Laryngectomee Clubs, Olympus, Pentax, Sigmacon and Soluvos Medical BV, whose support greatly enriched the conference and provided a valuable platform for learning and dialogue.
Conference sessions have been recorded and are available online as Talking slides > 
For more information about joining BLA, benefits of membership, partnership opportunities, education, meetings or any other aspect of our work, please contact the BLA secretariat:
British Laryngological Association c/o ENT-UK
Royal College of Surgeons 
35-43 Lincoln's Inn Fields 
London WC2A 3PE, UK
INAUGURAL JOINT MEETING BETWEEN BLA/UEP